Meet Our Donors
We thank all our planned-gift donors for their generous support. Here are some of their comments and stories.
Jane & Yale Eastman '50

"My husband and I funded a charitable remainder trust a number of years ago — truly a win-win opportunity."
Nancy Bushnell '62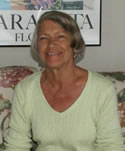 "Supporting Skidmore and protecting my income in retirement are both important to me. My gift annuity turned out to be the perfect option."
Florence Andresen '57

Florence Andresen '57 is shaping Skidmore's future. So can you. It's a wonderful feeling to know that my bequest will assist tomorrow's students and help ensure Skidmore's role and responsibility in the future. It's a proud legacy for me and so important for the college.
Virginia Lyon '47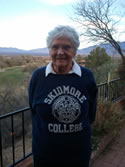 "I just funded another gift annuity. It's simple and I used stock that was only returning dividends of 2 percent. I now receive 8.4 percent and know I am supporting students at Skidmore."
Emily '74 & Jerry Chiles

"Our gift annuity ensures that our support for Skidmore will help perpetuate opportunities for students of tomorrow. There's also a measure of comfort knowing I'll be guaranteed a certain rate of return during this time of economic uncertainty."
Do Jerman '47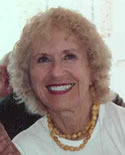 "Do" Jerman '47 thinks her life-income gift with Skidmore is a smart way to make a gift. "It's a great investment in Skidmore's future with a lifetime income for me!"
David Marcell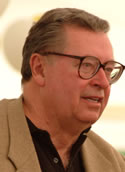 "Making a deferred gift annuity to Skidmore was a most gratifying part of my retirement planning. I made the gift while still working full time and received a current-year tax deduction on part of the principal. Now I receive a stream of income from the College, guaranteed for life."
Cliff Roberts P'69, P'79, P'83

Cliff Roberts with daughters Judy '69, Holly '79 and Suzie '83 enjoys the secure lifetime income he receives from his Skidmore charitable gift annuities and knowing that his annuity assets will be added to The Roberts Sisters Scholarship Fund.
Nancy B. D'Wolf '48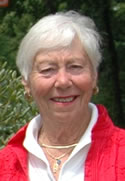 Nancy b. D'Wolf '48 realized impressive tax benefits when she donated her vacation cottage to Skidmore and retained lifetime use of the property. "I like knowing the cottage is mine to use for life and that Skidmore will one day benefit from my gift."
Virginia Davis: Gift Ensures a Creative Legacy at Skidmore

Virginia Davis '43 has always been a woman ahead of time. Despite offers from other colleges, Virginia chose to attend Skidmore because of her interest in the textile and clothing program - an advanced program for women at Skidmore at that time. That path eventually led her to uncharted territory in the textile field.
At Skidmore Virginia majored in home economics/textiles. Upon graduation she worked in retail at Macy's and for an ad agency. Knowing that she wanted something more, she considered graduate school and decided to meet with the dean at UMass. The dean was so impressed with her background and her interest in teaching women more than sewing in their studies of textiles that he instead offered her an Extension teaching position. As she says, "I was teaching women in the state how to buy and be successful consumers for their families."
She credits her creative perspective and ability to adapt to changes in the textile field to the skills she acquired at Skidmore. She says of her gift to the school, "My time at Skidmore was very rewarding, and I wanted to give something back in my lifetime."
In her planned giving, Virginia decided to utilize a charitable gift annuity. She had received mailings about gift annuities and last year asked herself, "Why am I not doing this?" Consequently, she called the gift planning office to obtain more details and spoke to her professional advisors, who thought it was a great idea. As she says, "I am very pleased with the way everything has worked out with the annuity. It's very easy. I just wish I had done it sooner." She notes that even with the uncertainty in the market, "I know I can count on this fixed payment from Skidmore." With her gift, Virginia ensures a legacy of creative entrepreneurship at Skidmore — far into the future.
Gail Capobianco: A Deferred Gift Annuity for Skidmore

Gail Capobianco '79 enjoys trying new things. While at Skidmore her studies spanned the entire art department, with classes in weaving, jewelry making, painting, and drawing. As she says of her time, "Skidmore's biggest gift to me was providing new experiences that I wasn't able to get coming from a small high school."
After including Skidmore in her will and reviewing her planned-giving goals, Gail concluded that there was no reason to wait to make a gift to Skidmore. She says that she and her husband decided, "Let's do it now with a gift annuity." Because they did not need the income then and were not sure when they would need it in the future, they settled on a deferred gift annuity. As Gail aptly sums up, "This was an opportunity to invest in Skidmore and myself at the same time."