Legacy Society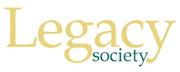 The Legacy Society recognizes all those supporting the College's future with a planned gift commitment. Members sustain a tradition of vital importance by ensuring the future growth and welfare of Skidmore College, its students and graduates.
If you have included Skidmore in your plans, please consider notifying Andy in the Gift Planning Office, if you have not already done so. This provides to College with the opportunity to understand your intentions and thank you for your commitment. Your membership in the Legacy Society will also help us encourage others to make similar commitments.
Upcoming events for Legacy Society members.
April 5, 2014 - Saturday of Volunteer Weekend
Legacy Advisory Council Meeting. Skidmore College, Saratoga Springs, NY.
May 30, 2014 - Friday of Reunion Weekend
8:30 to 10:00 am, Legacy Society Breakfast with President Philip Glotzbach at Scribner Carriage House. (Invitation only.)
5:00 to 6:15 pm, Legacy Society and Friends of the Presidents Reception with President Philip Glotzbach and Marie Glotzbach at Scribner House. (Invitation only.)
Legacy Society members also receive the annual legacy society report and calendar.